Kennesaw State police investigation two sex assaults, school starts awareness program | News
Title (Max 100 Characters)
Kennesaw State police investigation two sex assaults, school starts awareness program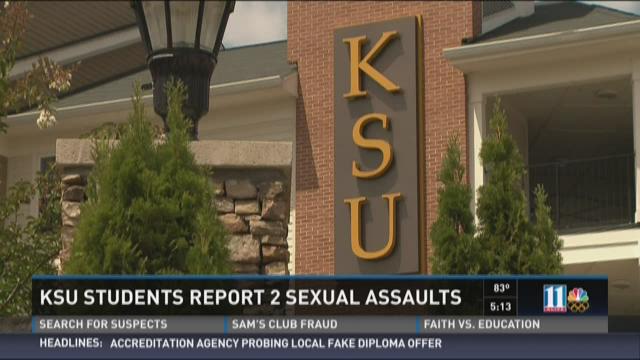 KENNESAW, Ga -- Kennesaw State University (KSU) police are investigating two sexual assaults on women on campus that happened the first week of school.
The sexual assaults both occurred on campus within days of the Monday, Aug. 17 start of school at Kennesaw State.
According to KSU police the first assault happened outside the Austin Residential Complex on Aug. 20 when a woman was "groped by a male" described as six feet tall with blond hair.
Two days later, at University Village, a student says she was "raped in the suspect's apartment" and added details that he was 6 feet 5 inches and 175 pounds with blue eyes.
The students received the information in separate email alerts on Aug. 22 and 24.
"I was actually surprised they told everybody [about the assaults] and so in-depth," said Harley Woods, a freshman.
"It gets you aware, but my only problem is it came out two days after incidents happened," said Kaelin Tharpu, a junior transfer student.
Last school year, KSU students reported several sexual assaults on campus, including one that involved a young woman who spoke with 11Alive.
"He wanted to cuddle with me and he kind of pulled me close to him," said a young woman who didn't want to be identified. "He put his hand up my shirt, even though I kept saying no and it just went too far."
He went too far because she told him no but it was still a sexual assault and KSU officials have tried to clarify that to students.
Following the incidents, K.C. White, KSU President of Student Affairs, released this statement:
"While one case is one too many and sexual assault absolutely will not be tolerated at Kennesaw State, our efforts to educate our students are working and students are doing the right thing by reporting these incidents."
Beginning in the 2015-2016 school year, all new students - both freshman and transfers - must participate in an online training course that helps educate them about sexual assault. 
"We had to do this program about rape and assault," Tharpu said. "We have to do it in order to register for classes. It lets you know what you need to do… It's something that they implemented because of what happened last year."
After getting them training, some of them have taken precautions.
"I changed my schedule. I had a late class from 8 to 9:15," said transfer student Ayanna Russell. "But after I got the email I said, oh no, I am not getting a class after the sun goes down."